By: Maclay Cerny, Royals Media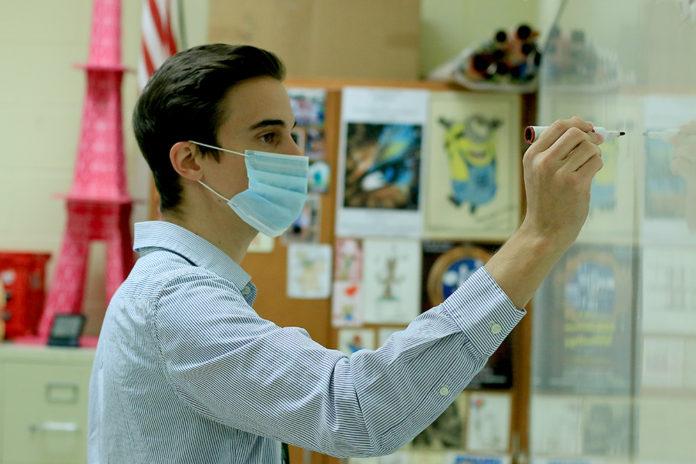 First year Spanish teacher Dalton Diaz works at the board, as he maintains CDC guidelines by wearing a mask.
With waiting teachers, arrows, and yellow caution tape filling the hallways of Prince George High School, the bell rang and students began navigating the halls to their first class of the day.
Prince George is one of the few local school districts that decided to have students return to school partially, so changes had to be made. Desks were placed six feet apart in classrooms, the commons tables had been replaced with desks, and the hallways were filled with one way arrows. Also, temperature checks were made before students were allowed to enter the building and students were released staggered every few seconds instead of all at once.
"In the hallway during class changes, I know some people weren't paying attention to which way they're supposed to be going, so it's hard for the teachers to yell at everyone," senior Regan Urich said. "The temperature checks were pretty good. It was just click and go."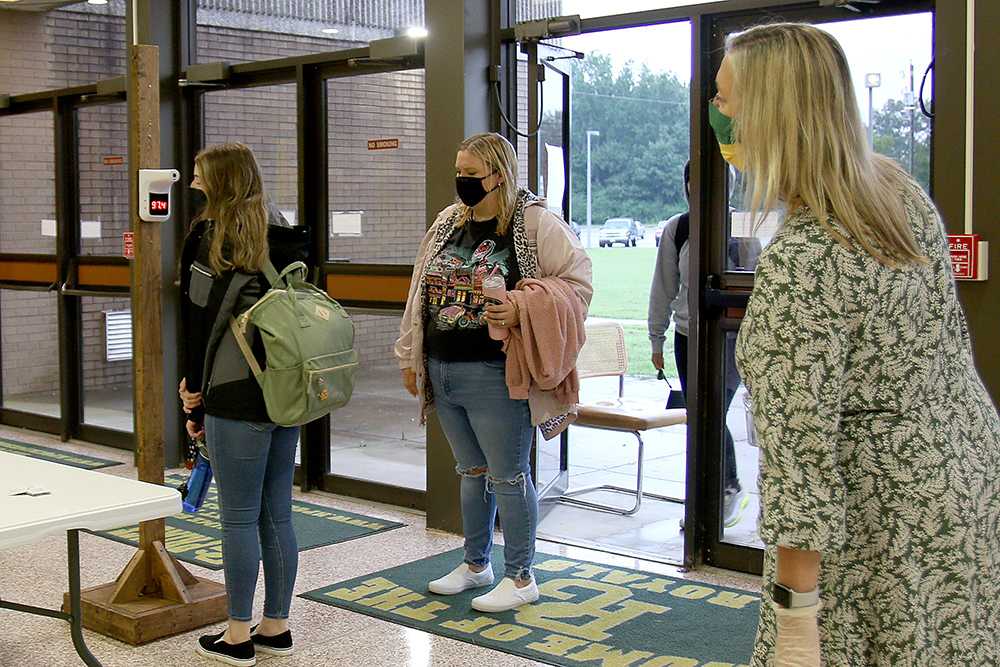 Students have their temperature checked upon entering the gym lobby from the student parking lot as guidance counselor Tara Seely verifies the thermometer. Photo by Maclay Cerny.


With students also having the option to do virtual school at home, teachers were expected to teach to the virtual students through a computer along with the students in front of them.
"In all the classes I had, teaching virtual and in person cohesively went well," Urich said. "The teacher was talking to us and the virtual students at the same time."
Students had the option between going back to school and doing virtual school from home through google classroom. Being at home presented its own challenges.
"I believe google classrooms worked pretty well," said virtual learner, sophomore Alysaa Nichols. "I think the only problem would be internet connection. There were a few connection problems but other than that it worked pretty good. Both the in-person and virtual students didn't seem to have a hard time with our new learning environment."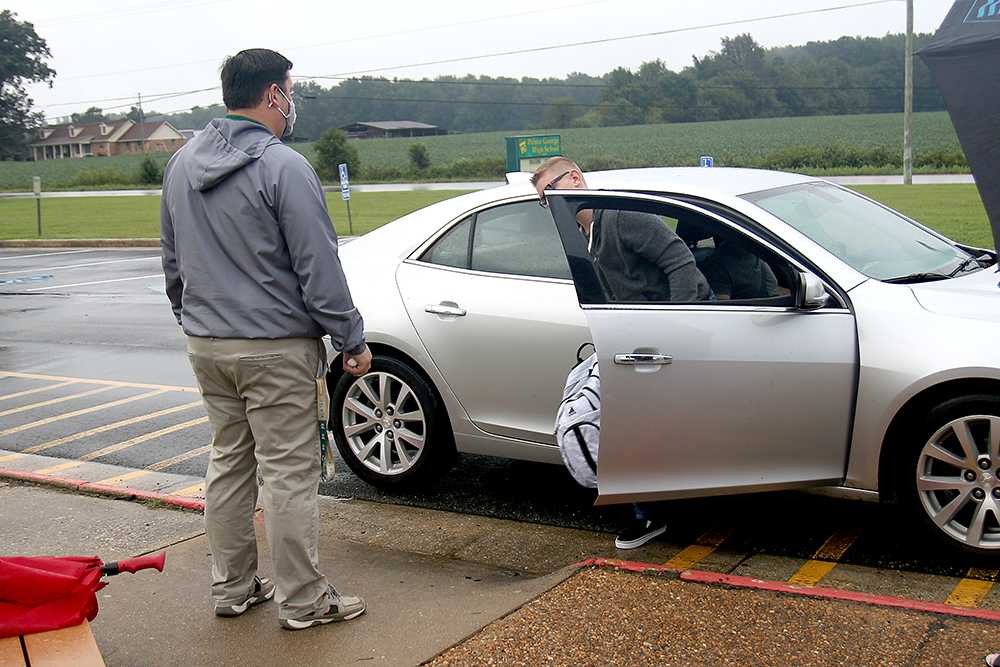 CTE Coordinator Matt Weston helps out by checking temperatures of students who are dropped off at the front of school in the morning. Photo by Maclay Cerny.
Teachers also faced a new set of challenges. They had to adjust their teaching plans and learn how to work many different programs.
"I felt good about today," biology teacher Keandra Smith said. "Although it was our first day, students were able to access materials, whether virtually or in person. As a teacher, it takes pre-planning and having things easy for students to access. I was able to navigate the virtual students through what we were doing and how to access materials and I checked in constantly to ensure they were on the right track."
Challenges are still being worked through, but the new waters tested today by both students, teachers, and administrators are calming as routines begin to form.
"Overall, it was a great day. Although things looked different, I felt I made connections with my students and made them feel hopeful about the new year. It's a lot of things to learn as a teacher and student, but I believe we are all ready to take on the challenge," Smith said.